There's nothing quite like reading a good book to inspire you to travel! And if you're traveling to Italy soon, you'll want to pick up one of these good reads before your trip. There are so many great books about Italy and books set in Italy that it could take you years to read them all. But these are just some of my favorites.
This post contains affiliate links
My Favorite Way to Read Books About Italy while Traveling
I think reading is the best way to really connect to a destination, even before you've visited. I love reading books about Italy before, during and after my trips, but hauling books can be a pain.
So when I travel I often have my Kindle, or I'm more likely listening to an Audiobook, which is great when you need to close your eyes on a plane but can't really sleep.
You can get free audiobooks at many libraries. I can't, so I use Audible for my audiobooks. If you've never used it before, consider trying it out with a free trial before your trip to Italy.
Cinque Terre
Beautiful Ruins by Jess Walter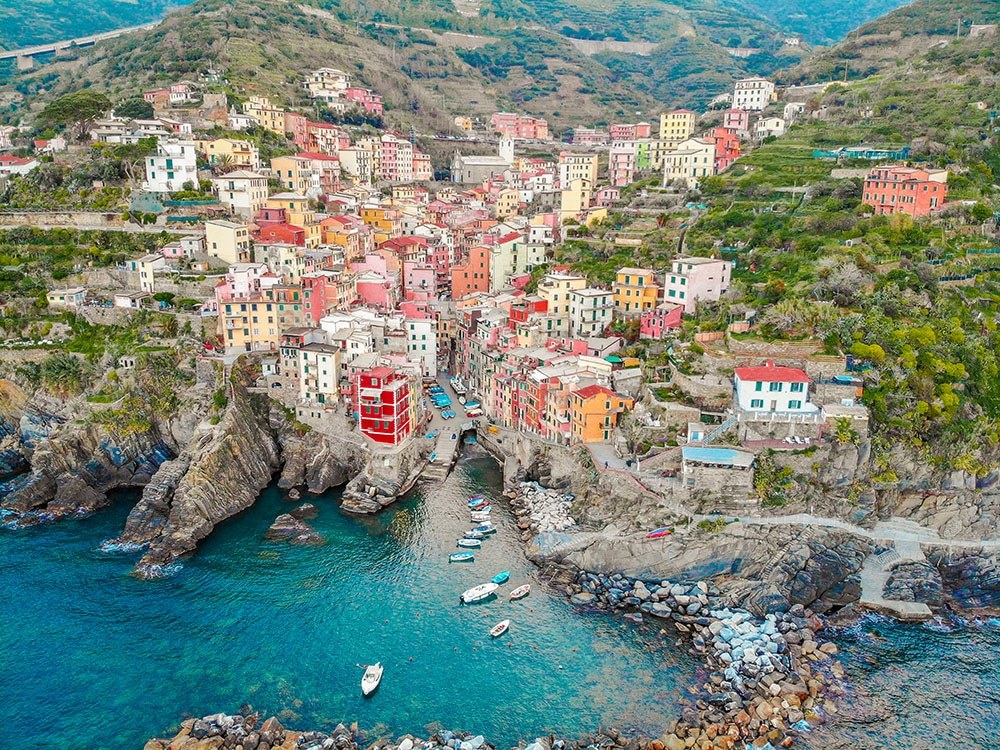 This is one of my favorite books set in Italy. I ordered Beautiful Ruins by Jess Walter after hearing friends talk about their time hanging out in Cinque Terre. My husband and I were already planning on visiting Tuscany with his family so Italy was already on my mind. After reading about this quaint little place right on the water with so much history, I just knew we had to visit!
I even brought the book to re-read once we got there. The book gave me high expectations for these little towns and I'm so happy that Cinque Terre lived up to them! We even met a few interesting characters!
From Marcie In Mommy Land
Italian Alps & Milan
Beneath a Scarlet Sky
by Mark Sullivan
This was truly one of the most incredible books set in Italy, and the best part about it is that it's true! Beneath a Scarlet Sky follows the life of …. an Italian boy from Milan at the beginning of the book, a human smuggler by his teens, and a spy for the Italian resistance helping to defeat the Nazis by the end of the book.
I found his story so fascinating and think it's actually a miracle that he survived the war! His incredible feats of bravery both in Milan and on the Italian/Swiss border near Lake Como were brought to life when we visited this magnificent area of Italy. It's now one of my favorite places in the world. I hope you make it there! Read 5 reasons Lake Como should be your next family vacation.
Naples
My Brilliant Friend
by Elena Ferrante
My Brilliant Friend and its sequels are about two girls growing up in post-WWII Italy. This book brings the city of Naples, Italy to life as it follows the evolution of the city along with the evolution of their friendship over a span of 60 years.
Pompeii
Pompeii by Robert Harris
When I was little, my Grandad always seemed to be on holiday somewhere exciting, and he always sent me a postcard. After one trip, he brought me back something even better – a picture book about Pompeii, which for a Romans-obsessed little girl was just the most exciting thing ever.
Just before I went to Pompeii for real, I came across Robert Harris's novel Pompeii, which really brought the everyday lives of the inhabitants of Pompeii to life for me – but I would never have visited at all if it hadn't been for that book from my Grandad.
Rome
Four Seasons in Rome
by Anthony Doerr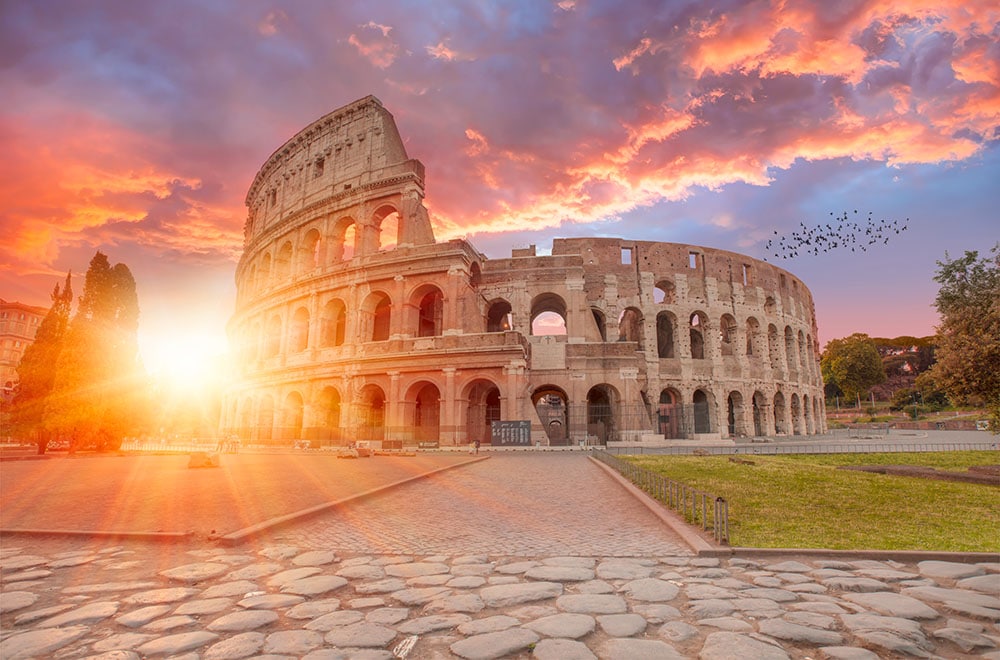 When a good friend heard I was planning a trip to Italy with my 4 young children, she mailed me a copy of Four Seasons in Rome. She said it was a must read.
Four Seasons in Rome is a memoir by Anthony Doerr, the Pulitzer Prize-winning author of All the Light We Cannot See. He wrote the memoir about his year living and writing in Rome with his wife and infant twins.
For me, the book was a true celebration of Rome, parenting, and writing. Rome is a city I have visited many times before, but it still seemed very big, and a city I wasn't sure I could navigate with my 4 little ones.
After reading Four Seasons in Rome, I realized that my feelings were totally valid but it wasn't a reason not to explore this amazing city with my kids. Rome ended up being the first stop on our month-long Italian adventure and my first few days were exactly like the author's: challenging.
It reminded me why I was in Italy with my kids and while there would be challenges, those challenges would help us grow together as a traveling family and the beautiful memories would last a lifetime.
From The Chirping Moms
Rome
Angels and Demons
by Dan Brown
Angels and Demons by Dan Brown inspired me to visit Vatican City and Rome. Ever since I read the gripping novel with cryptic messages and the mysterious murders inside the Vatican, I promptly put the Vatican in my bucket list.
As Brown weaved his tale around prominent monuments in Rome and the Vatican, the history buff and architecture lover in me made this my first solo international trip! YES! I did that 🙂
And soon I sauntered off Piazza Navona which houses the Fountain of the four rivers which is featured in the book. My quest was mainly to see St Peter's Basilica in the same light as shown in the book and connect the dots as I visited the painted corridors, the dimly lit staircases, and the surreal Sistine Chapel.
Even with a crowd of 20,000 tourists lurking around, for me truly, Angels and Demons had come alive.
From The Quirky Wanderer
Rome
From Sand and Ash
by Amy Harmon
This beautiful story set in Rome during WWII chronicles the role of the Catholic church during this time as they put differences aside and provided aid to the Jews. It's a sad and heartbreaking tale, but the history is fascinating. The book mentions many neighborhoods in Rome that are still there today. It was fascinating visiting Trastevere and the Jewish quarter in Rome after reading From Sand and Ash.
Venice
The City of Falling Angels
by John Berendt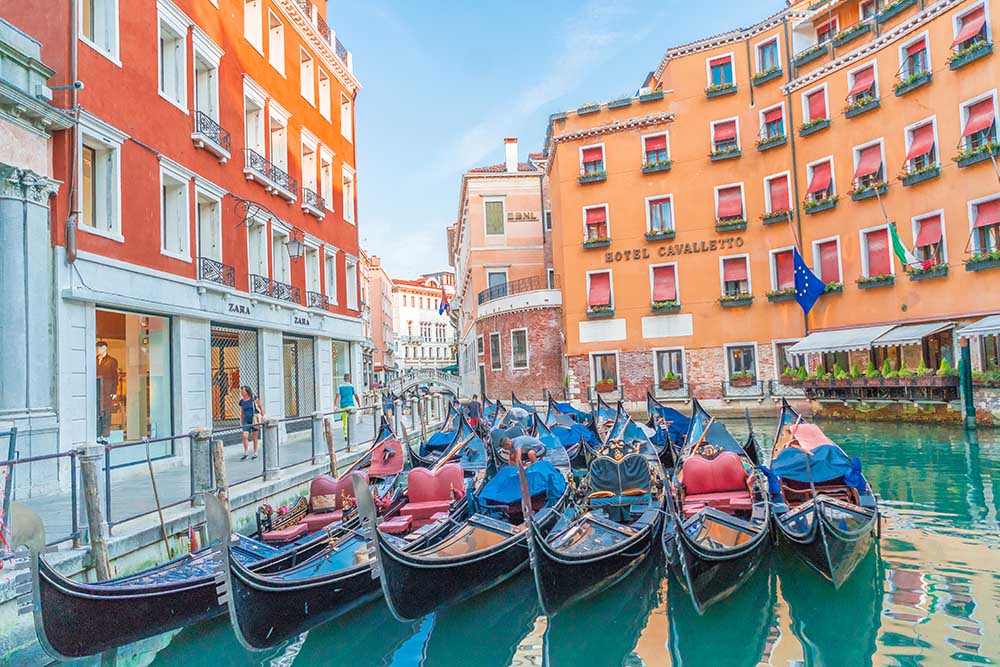 Under a book exchange program, we received a copy of  The City of Falling Angels by John Berendt. The book explores the city of Venice, Italy as well as its surrounding islands. It inspired us to visit this beautiful city of islands where we enjoyed exploring the alleyways and riding on gondolas.
From Family On The Wheels
I hope this list of books set in Italy has been helpful to you. Hopefully, I'll be adding to my library in the future. If you have any recommendations for more books about Italy, I'd love to hear them! Comment below.