Discover the best Italian Agriturismos that have been tried and tested (and actually stayed in) by real people! This list was generated from the Italy Travel Facebook Group. These Italian farm stays were recommended by real people. If you'd like to join the community, you can request access to the group here.
If you've ever seen pictures on social media of happy people walking through vineyards or orchards of olive trees in Italy, it's likely that they're staying at an agriturismo in Tuscany or somewhere in Italy. If you're looking for a truly authentic Italian experience of rural life, this is one of the most quintessential things to do in Italy. Agritourism in Italy is not new, but it's becoming increasingly popular.
This post contains affiliate links
How to Pick the Best Agriturismo in Italy
What is an Agriturismo?
So, what is an Agriturismo? If you have no idea what I'm talking about, start here!
An Agriturismo is a home in the country that is open to hosting guests. There is a wide range of agriturismo types from very rustic to luxury.
There are usually opportunities to connect with the land during your stay, such as vineyard experiences, gardening or farming, and olive oil making, and there are usually some tastings involved. It's a chance to really connect with true Italian culture and be immersed in a different type of lifestyle.
Many of the agriturismi will have animals on the property. Beyond just being an accommodation, agriturismi are usually more experience based and include a personal connection with the owners or caretakers.
What does Agriturismo mean? It's pretty self-explanatory, but the word comes from agri (agriculture) and turismo (tourism), so it basically means agricultural tourism.
You may also hear the word Relais when searching agriturismo Italy. Relais is a french word meaning relay. In ages past, relais served as a rest stop during arduous journeys where you would change out your horses, and the term relassier is an ongoing expression to illustrate relaxation and revitalization.
You may also hear agriturismo properties being referred to as farm stays. This term usually refers to an Italian agriturismo with a more agricultural tourism focus, whereas a relais may refer to just nice country houses.
You'll also hear Tenuta quite a bit, which just means "Estate" in Italian.
Regardless of the terminology, Agriturismo, relais, or farm stay, your adventure at a country property in the Italian countryside is sure to be a highlight of your trip!
The History of the Italian Agriturismo
During the mid-20th century, Italian small-scale farming experienced a decline in profitability, causing numerous farmers to migrate from their farms into larger towns in search of new job opportunities.
Italians place great esteem and emphasis on their agricultural customs, especially in the small-scale development of foods such as cheese, wine, and olives.
Subsequently, by 1985 Italian lawmakers had fashioned a legitimate definition for Agriturismo; this legislation permitted rehabilitation and restoration of many deserted rural buildings or estates while supplying additional resources to those that needed it.
Many of these homes were reborn as vacation dwellings, while others morphed into agriturismo accommodations – similar to English or American bed and breakfasts. By allowing small farmers the opportunity to host travelers seeking a unique immersion in rural Italian life, agriturismi provided them with an additional income source.
Where can you Find an Agriturism in Italy?
You will be able to find agriturismo properties all over Italy, however, the majority of the more established ones will be located in Tuscany and Umbria, with some great ones in northern Italy and Sicily as well.
What You'll Eat at an Agriturismo in Italy
At an Italian agriturismo, visitors can expect to be served meals cooked from ingredients sourced straight from the farm or from the local region. Furthermore, guests may even get to participate in activities on the farm such as harvesting vegetables from the garden, picking grapes, and milking cows!
Contrary to what you might expect, agriturismi lodging in rural areas are often luxurious and lavish. Accommodations vary from simply decorated rooms with rustic furniture and shared bathrooms to opulent suites or apartments boasting whirlpool baths and other extravagant amenities.
Different Kinds of Agriturismo Options
Agritourism has become increasingly popular, offering a variety of subcategories to choose from. Those who are looking for a more sustainable holiday can experience full immersion in nature with farms that specialize in ecotourism.
On the other hand, individuals seeking luxury and indulgence have the option of selecting wellness agritourism which includes spa treatments provided by some farms! Many agriturismi will have modern comforts, but some may not, so be sure to check and pick one that will be comfortable for your level of luxury needs.
For the active vacationer, agritourism offers a variety of activities such as horseback riding, climbing, and swimming. And for those who love to eat and sample authentic Italian food, you won't be disappointed! Enjoy guided culinary tours that explore regional dishes with delectable food tastings. Many agrituismi even offer cooking or will teach you to forage for wild herbs.
How to Book an Agriturismo in Italy
You can find many agriturismi or farm stays online on almost any booking platform like booking.com, Expedia, and hotels.com. You can also search on agriturismo.net, or agroturismo.it. Redrooster is a site specifically for agriturismo properties in South Tyrol or the Dolomites area of Italy.
Tips for Choosing an Agriturismo
The good news is that there are plenty of agriturismo properties to choose from in Italy, but that can mean that it can be difficult to narrow down which one is right for you. The solution is to ask yourself a few questions and understand what your needs are. Italian agriturismo properties will vary widely in their offerings, so it's important to understand what you're booking. Here are a few things to think about when booking yours.
You will need a car or driver – Check the Location
Most, if not all, agriturismo properties in Italy will be located in more rural villages down country roads, and not easily accessible by public transportation. So you will definitely need to consider how you plan to get there. Many tourists will opt to take a train as far as possible and then hire a private driver or get a taxi to the Agriturismo.
Before booking, be sure to check the location of the property and have a plan for how to get there. Some properties will have a car service or a connection to a driver that they can set you up with.
If you plan to rent a car in Italy, be sure to get your International Driver's License (IDP) before going. It's the law to have it in Italy and you can be turned away from picking up your rental car without one.
We like to use Welcome Pickups for booking transfers like this.
Be Sure the Agriturismo Offers Agricultural Activities
The whole point of staying at an agriturismo is to experience authentic Italy and agricultural tourism through experiences or tastings. There are so many great properties with activities that include these, so just be sure to check if this is something you are interested in doing.
Check to see if there is a Restaurant on site
Many agriturismi will have an onsite restaurant, and almost all will offer or provide breakfast. But not all will have a full service restaurant onsite. So if you're staying without a car or driver, or a way to leave and get food, this kind of agriturismo stay might not be a good choice for you.
Check to see if the Agriturismo has animals
While many agriturismi will have animals on site, not all of them do. If you are visiting with animal-loving kids (like mine) you may want to check this. I know my kids would be disappointed to be doing a farm stay without farm animals. But some people may prefer no animals. Everyone is different. Farms have varying levels of agriculture opportunities, so just take this into consideration when booking.
Check for Swimming Pools and Safety
If you're visiting an Italian agriturismo in the summer months, you'll most likely want to swim! But not all agriturismi have pools, so this is something you'll definitely need to check when searching. Also, Italian swimming pool laws are not anywhere close to what they are in the US, so if you're concerned about pool safety with small children, this is something to take into consideration when traveling with a family.
Check for Air Conditioning – Especially in the Summer
This is a big one if you're planning to visit in the summer! Tuscany, especially, gets very hot in the summer. A Tuscany agriturismo will really need to have air conditioning if you want to be comfortable. So make this a requirement when you're booking.
Check the WiFi Speeds or Plan to Unplug
You will be in the countryside, so don't expect to have lightning-fast speeds on the farm. Hopefully, you are in a position to take a real vacation and detach from the internet for a few days. I think we should all do this at least once a year. I know it's so hard! If you're planning on working from an Agriturismo, be sure to check with the host about internet speeds.
The Best Agriturismo Properties in Italy
There are so many options for booking your Agriturismo. I compiled this list from our awesome Italy Facebook community when I asked for their favorite Agriturismo in Italy. I love that these have all been tried and tested by real people who highly recommend them. Let me know which one you decide to book!
Tuscany Agriturismo Options
Tuscany is the most likely place you'll be staying in an Agriturismo. While they can be found all around Italy, Tuscany tends to hold the largest number and best options for tourists in the country. Tuscany is located in the northern half of Italy, not far from Florence, Pisa, and Lucca.
Relais Orgaglia is an incredible Tuscan agriturismo built in the 17th century and located between Montepulciano and Pienza. They are a Rick Steves recommended property, which is a pretty big deal! The owners, Sandra and Phil, have lovingly created a beautiful space with a long list of unique experiences to book like cooking classes, hot air balloon rides, and more.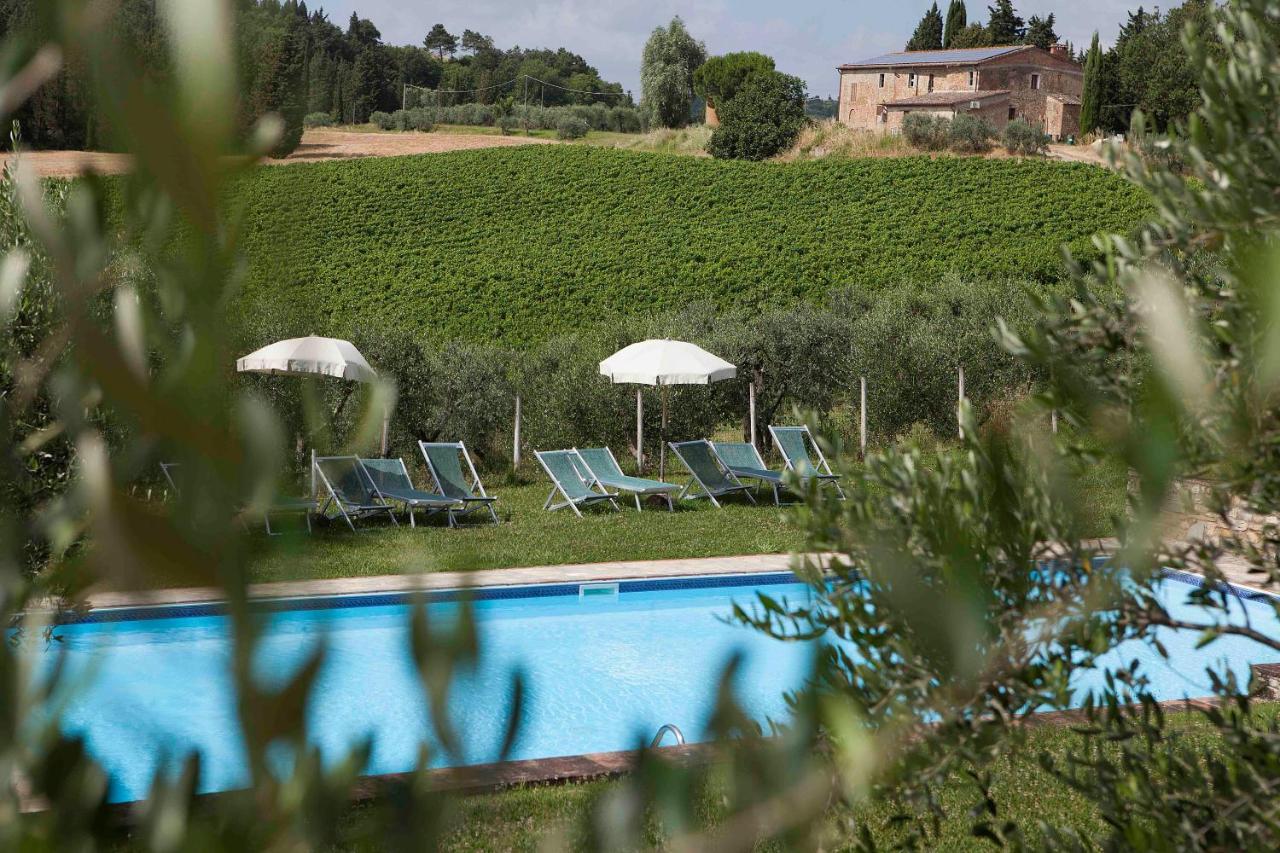 Nestled on a hill in Montespertoili, Fattoria Poggio Capponi has been around since the 16th century. Surrounded by lush forests, vineyards, and olive groves, this property features an exquisite villa as well as a farmhouse and wine cellar. It boasts an outdoor swimming pool that provides guests with unparalleled views of the surrounding landscape.
Relax and unwind in the newly renovated, air-conditioned apartments featuring a fully equipped kitchen that still preserves its traditional atmosphere. Enjoy bike hire options at Fattoria Poggio Capponi and explore all that the area has to offer with hiking trails through breathtaking landscapes only steps away!
Florence is 12 miles from Fattoria Poggio Capponi while Siena is 29 miles away – meaning you can take advantage of two top destinations without even having to leave your home base. It's one of the best agriturismo near Florence. The nearest airport, Florence Airport, lies 11 mi from this picturesque farm stay property.
Tuscany
Centuries ago, the building of La Fontaccia began with stones taken from nearby outcroppings. Elisabetta's family had owned it for a hundred years or more and at one time housed numerous peasant families within its walls; an old stone barn was also used to shelter animals. It sat on sunny land surrounded by high dry-stone walls, all built through hard labor done in generations past.
La Fontaccia Farm opened its gates to the public in 2010. Taking up 14 hectares of land, composed of woods and olive groves – a farm that has been around for centuries yet had become neglected at the start of the '80s.
Their mission since then is dedicated to environmental, agricultural, energy, and working sustainability which led them to become a certified organic enterprise. They are proud caretakers who personally look after every detail: from the orchard, vegetable garden, and chickens providing fresh seasonal produce for their guests.
Tuscany
This gorgeous agroturismo located about an hour from Florence is set on a vineyard that makes their very own wine. A small property with beautifully modern remodeled rooms and wine tasting opportunities, this is a great location and vineyard stay for adults.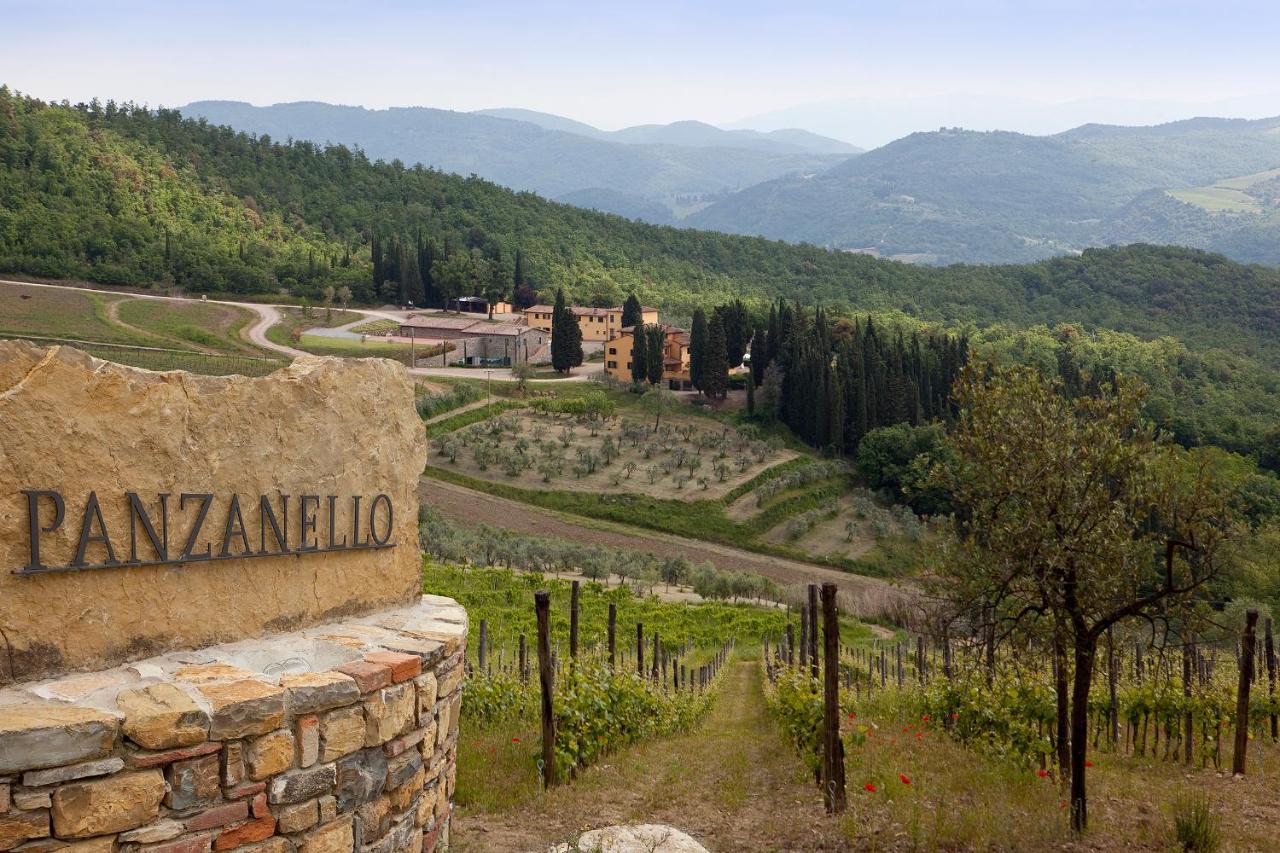 Chianti
Nestled between Florence and Siena, in the picturesque rolling hills of Greve in Chianti lies "Panzanello," an estate that boasts 300 acres of olive trees, wine grapes and woods. This prime location is at the very heart of Chianti Classico-the region renowned for producing Italy's most celebrated wines!
The Tenuta features the classic villa that has been owned by one family for generations, a modern cellar with special tasting rooms and magnificent terraces showcasing the breathtaking hills around. Every visitor is left in awe of nature's beauty here!
Tuscany
Fonte Bertusi, located in Pienza, about an hour from Siena is a lovely classic Agriturismo with beautiful rooms and some apartments with kitchenettes. Fonte Bertusi offers breakfast, a swimming pool, spa services, guided hikes, a barbecue, an outdoor oven, a lending library, and a natural spring.
This beautiful Tuscany farm stay, Fattoria San Martino, is a lovely rural property located in Pienza, about an hour and a half from Florence. They have beautiful rooms, a natural swimming pond with a dock, an on site restaurant, and incredible views!
If you're looking for something a little more upscale, Salvadonica just outside of Florence is a perfect choice. They offer luxury apartments, bikes to use, a beautiful swimming pool, a spa, horseback riding, and cooking classes. It's not cheap, but the price of this Tuscan farmhouse is worth it for a spectacular experience.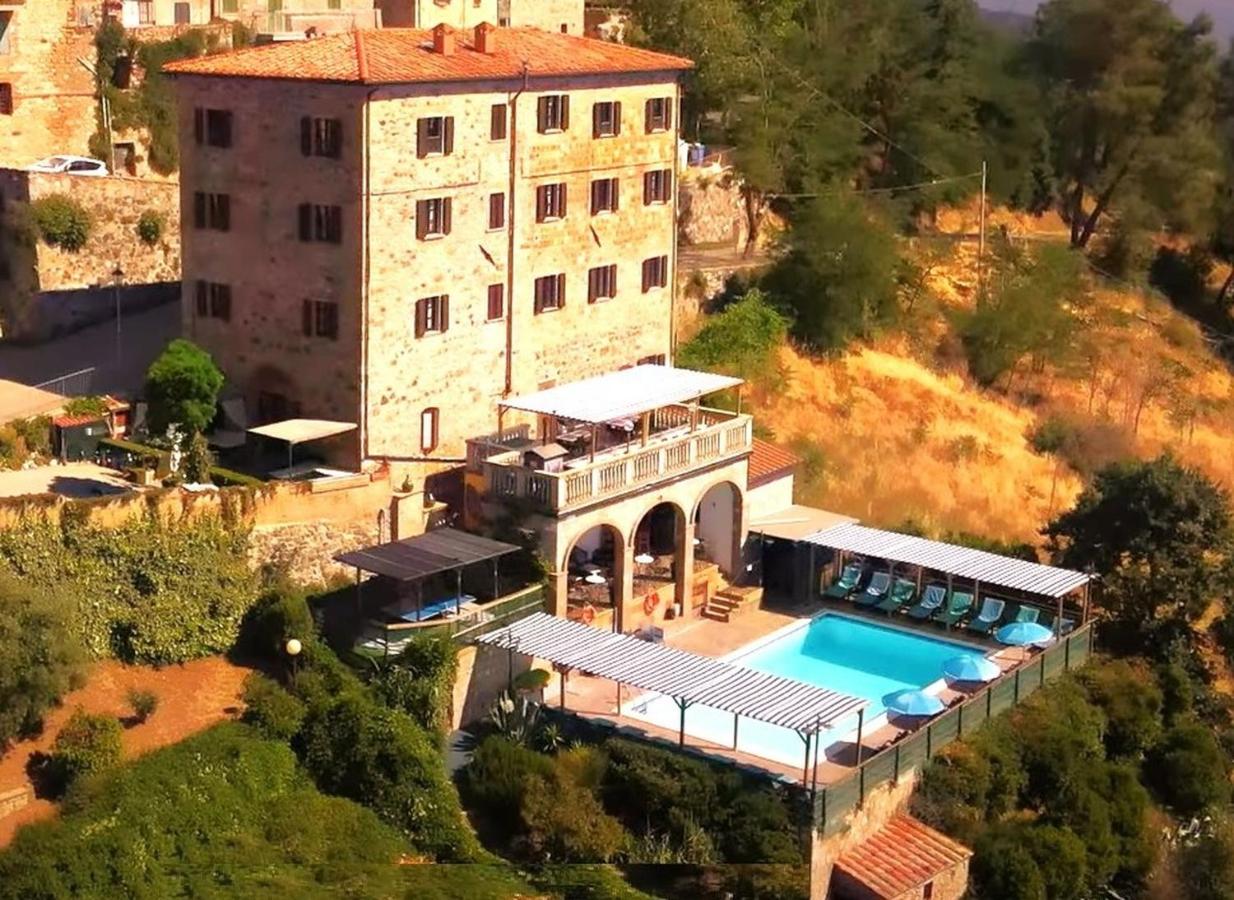 Located an hour and a half from Florence, his mideval farm house has been completely renovated and offers 7 rooms with a penthouse at the top. There is a swimming pool, jacuzzi, ping pong table, tennis court, soccer field, fitness equipment, and children's play area. They have a special bread service with daily freshly baked baguettes, ordered in the evening and delivered fresh and still warm in the morning.
Just an hour outside of Florence, Il Poggio Agriturismo and Resort is a lovely property that offers a true farm experience. Il Poggio was created by adjoining two family farms who came together to offer this exquisite farm stay. There is even an equestrian center onsite. You can purchase local products like meats, cheeses, wine, truffle products, olive oil, jams, mustards, and more!
Located just outside of Siena in Tuscany, Tenuta Larnianone is a beautiful and rural winery with olive oil, wine tasting, and horseback riding. The estate has picturesque surroundings and lovely villas.
This beautiful property about an hour and a half from Florence is located not far from the beautiful town of Arezzo. It has lovely renovated rooms and beautiful grounds with an outdoor swimming pool. Many guest rooms come in a kitchenette and breakfast is included. They also sell the finest local produce like olive oils, wine, and honey.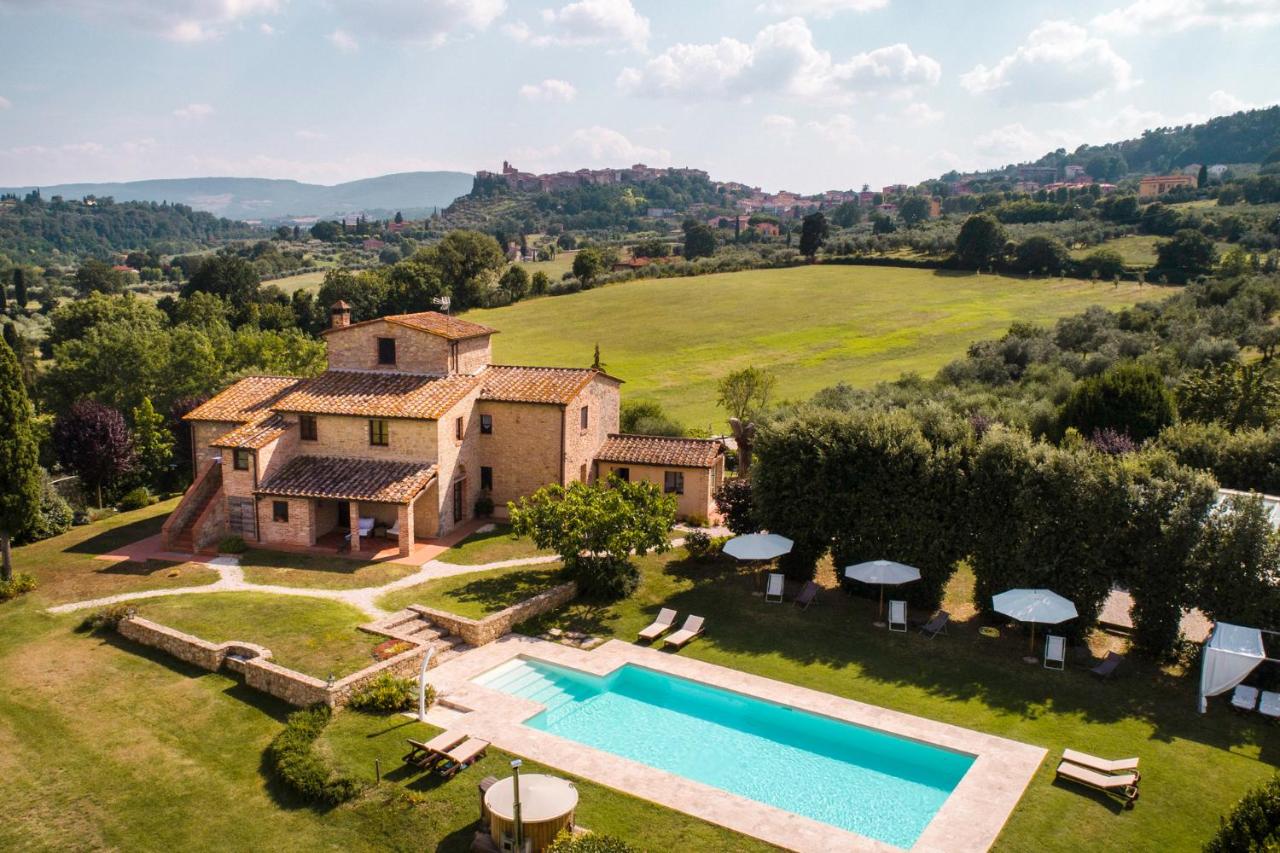 The Beautiful Humile farmhouse is located between Montepulciano and Chianciano Terme, in the ancient "Podere Cerretelli", in the province of Siena. Easily reachable both by car and by train. Humile agriturismo has converted 3 rooms on an ancient eighteenth-century farm using natural materials from the Tuscan landscape.
Just 1,950 feet from the Cascate Libere waterfalls, Le Cascatelle is in the Tuscan countryside. It offers rustic-style rooms and apartments with wood-beamed ceilings and hand-painted furniture. This Tuscan farmhouse is only 2,650 feet from Terme di Saturnia thermal spa where guests have discounts. The spa complex also features a golf course.
Located about an hour from Florence, Agriturismo Biologico Diacceroni is an organic farm stay surrounded by vineyards and olive groves. This organic Tuscan farmhouse offers an onsite restaurant and bar, organic garden, and horseback riding. There is also an incredible outdoor swimming pool with the most breathtaking view of the Tuscan countryside.
This beautiful 13th-century 72-acre working farm in Pienza, in the rolling Tuscan countryside, has 12 spacious rooms has beautiful rooms with terracotta floors and lots of light. There is a patio you can relax on, and a swimming pool with amazing views of the countryside. Breakfast is included and there is an award-winning farm-to-table restaurant on site. Spend your day wine tasting, exploring medieval hilltop towns, relaxing in ancient thermal baths, or biking along the famous Strada del Vino Nobile.
In the village of Vaggio, the Savernano offers free internet access and spacious rooms with satellite TV and a mini-bar. The outdoor pool has panoramic views over the Tuscan countryside. The Savernano produces a range of products that guests can purchase, including wine and oil. On request, guests can enjoy a local food tasting out on the panoramic terrace. All rooms have a private bathroom and are equipped with seasonal air conditioning or heating. In the summer months, your room comes with free towels to use by the pool.
Located near Montepulciano, this small Tuscany Italy agriturismo is the perfect getaway for those looking for a small secluded stay. It is small with only a few rooms, but also accessible to nearby restaurants. The house is surrounded sheep grazing, and the whole place is idyllically Tuscany farmhouse!
Just 40 minutes from Florence, Agriturismo Fonte de' Medici is a beautiful rural property offering modern comforts and beautifully renovated rooms. There is a restaurant on site and they even offer cooking classes.
Agriturismo Options in Umbria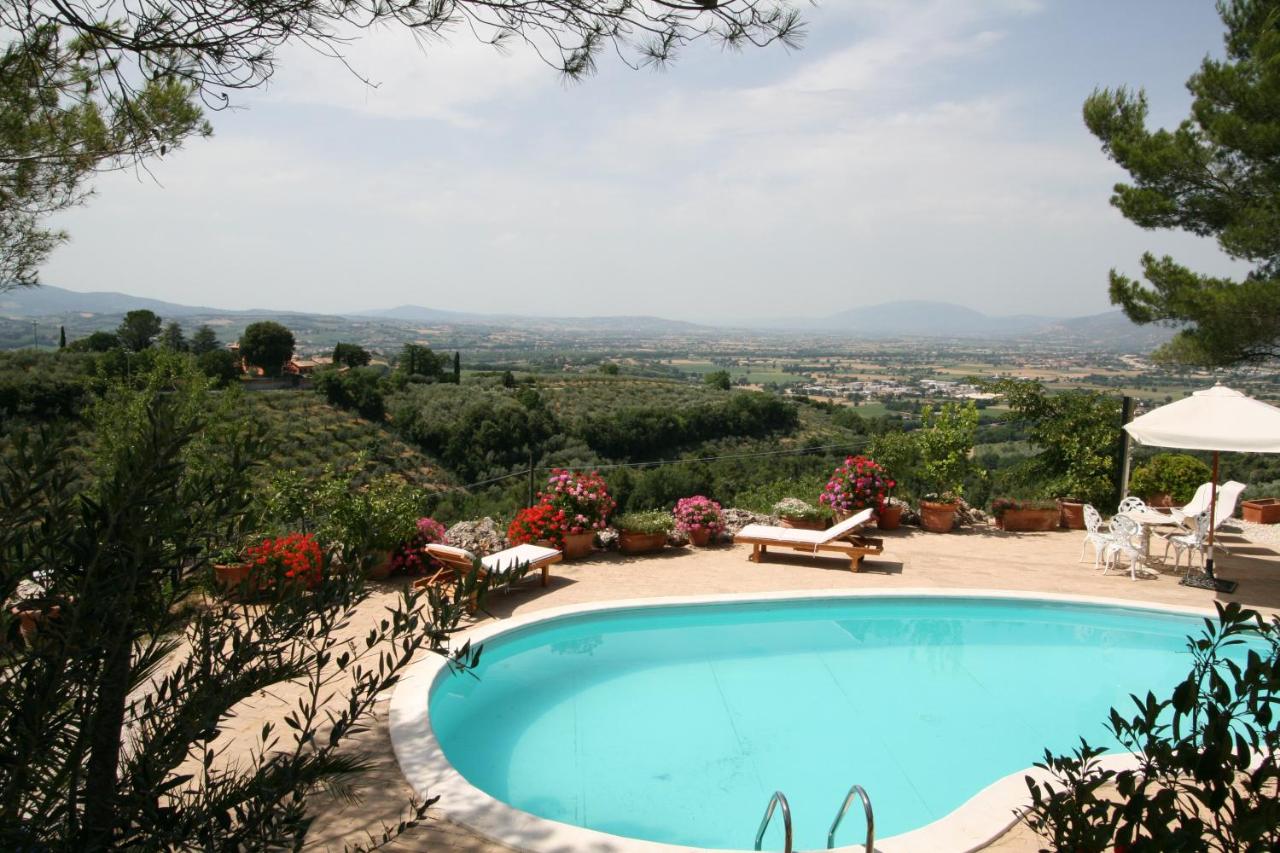 Umbria
This gorgeous paradise completely renovated farmhouse in Umbria has a nice pool and large rooms that will make you feel that you've moved into the villa rather than just at a hotel. You can purchase local products like olive oil and honey, walk through the lovely rose garden, relax by the pool, or enjoy the sunset views from the terrace. Eremo delle Fate is close to the villages of Trevi, Assisi, Spello, Montefalco, and Perugia.
Umbria
This gorgeous farmhouse located 30 minutes from Perugia is found up a winding road on a picturesque setting of a hillside over looking a gorgeous valley. Le Mandrie has comfortable rooms and a gorgeous terrace pool. There is also an indoor wellness center with mosaic tiles. You can purchase their local products like olive oil, cheese, meats, honey, and jams. There is also a restaurant on site.
Agriturismo Options in Campania
I have actually stayed in this agriturismo personally, but a group member also recommended it, and I'm not surprised. It's located in Sorrento on the Amalfi Coast and is absolutely lovely.
The house is close to town and to the beach but you feel like you're out in the country. It's located on a lemon orchard so you'll have as many fresh lemons as you can want. Our amazing and sweet host baked the most incredible fig tarts that I'm still dreaming about. It's a small family-run property, but great if you're looking for a little bit of country on the Amalfi Coast.
Salerno
This is a beautiful property located in southern Italy, about an hour and a half from Naples. Agriturismo La Sfrucia is a more rustic option, with basic accommodation, but is set on a lovely property with an on site spa and restaurant. It's also a close drive to some amazing natural hot springs like Terme Capasso and Terme Vulpacchio.
Pamper yourself with a hot stone massage or facial at the Agri Spa onsite. Enjoy free breakfast, an attached winery and roundtrip airport shuttle to make your experience even more special. Recharge while enjoying local cuisine from the restaurant's al fresco dining option and take advantage of additional amenities such as a poolside bar and terrace.
Agriturismo Options in Rovigo (near Venice)
Located just an hour away from Venice, Agriturismo Tenuta Castel Venezze is a great option in the northern Italian countryside. It offers an included breakfast, an site restaurant, a lovely mineral swimming pool, and beautiful suites appointed with antique furnishings. They even offer apartments for longer stays, if you get there and decide not to leave!
Agriturismo Options in Taranto (boot heel of Italy)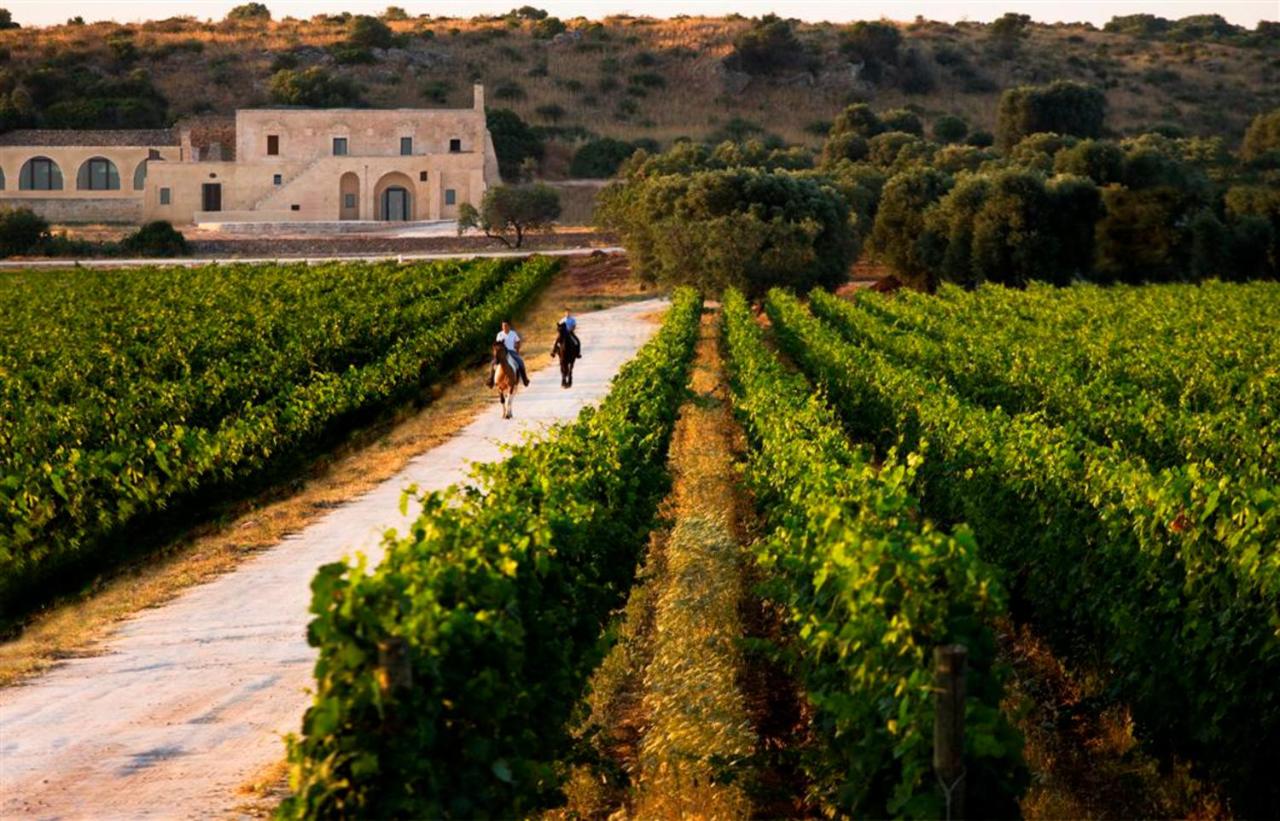 If you're looking for an agriturismo in the boot heel of Italy, look no farther than Masserie Le Fabriche. This luxury agriturismo offers spacious stylish rooms, a beautiful vineyard and gardens, horseback riding, an on site restaurant, a swimming pool, and lots of great experiences. Just a few miles from the beach, it's the perfect holiday getaway if you're looking for a mix of beach and countryside.
Agriturismo Options in Emilia-Romagna
This farm house with a stunning terrace view is just 45 minutes from Bologna and offers breakfast and an onsite restaurant. Along with beautifully renovated rooms they offer free bicycle rentals, horseback riding, private wine tours, an outdoor pool, and a wine tasting room. Take a day trip to Bologna and explore the amazing culinary city.
Agriturismo Options in Puglia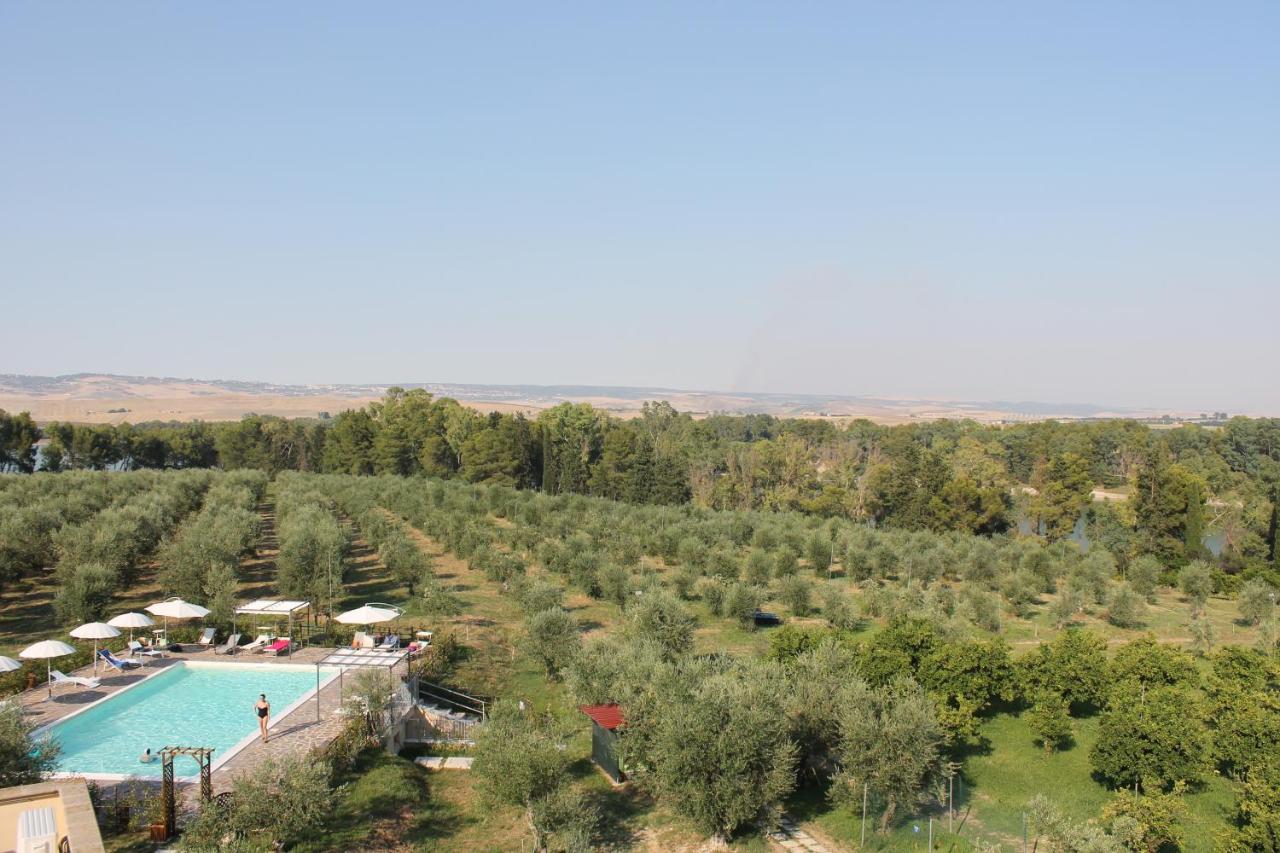 Puglia
Offering a seasonal outdoor pool and views of the lake, Agriturismo L'Assiolo is located in Miglionico in the Basilicata Region, 6.2 mi from Matera. The farm stay has a sun terrace and views of the pool, and guests can enjoy a meal at the restaurant. The outdoor pool is refreshing on hot summer days. The major plus is air conditioning in each room!
Agriturismo Options in Lombardi (near Lake Como)
Located in the glamorous Bellagio on the stunning Lake Como, home to the rich and famous, and home to some seriously stunning beauty, Agriturismo Il Colle is what you might think George Clooney might live in (plus some chickens). The rooms are lovely and clean and the view really cannot be beat!
Agriturismo Options in Cinque Terre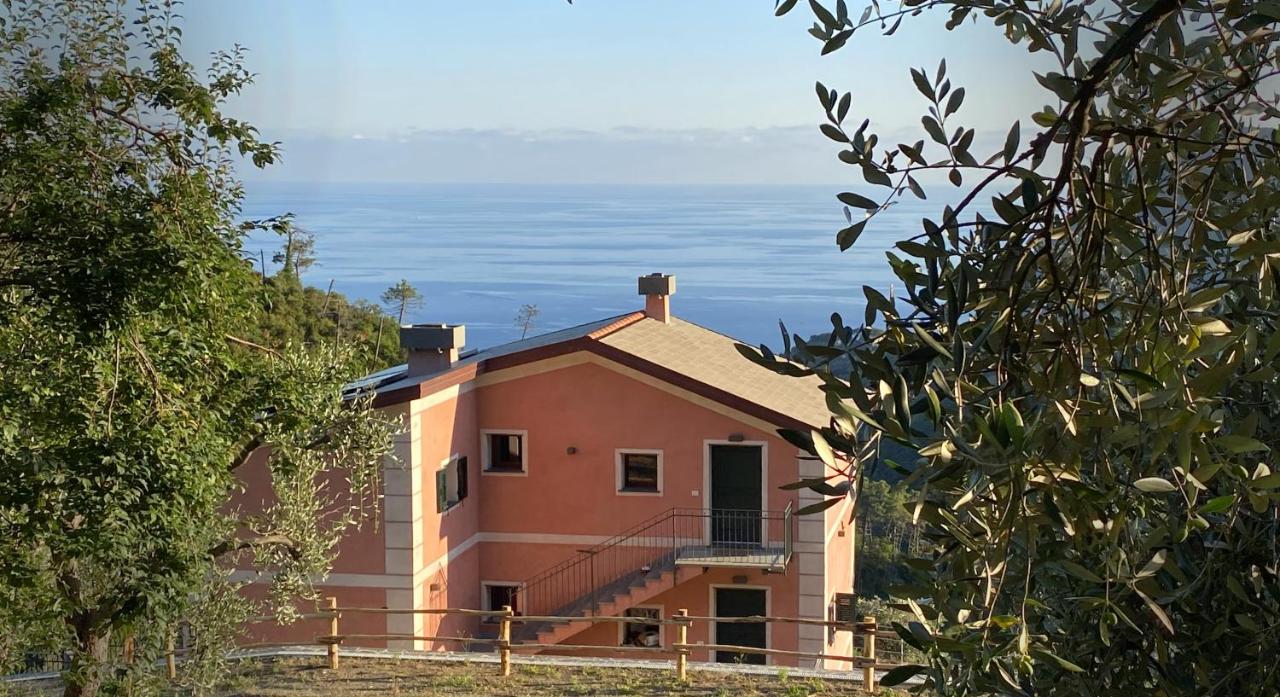 The beautiful villa was built before World War II and sits on a terraced hill above the sea in Monterosso al Mar in the iconic Cinque Terre. The farmhouse formerly housed the farmers engaged in managing the land and today, thanks to a skillful renovation, it has become
the MISSANEGA farmhouse. Their modern and welcoming stylish apartments are perfect
for lovers of relaxation and comfort looking for a farm holiday in touch with nature, surrounded by the sea. You can find a well-tended garden, an olive grove, a lemon and bergamot grove, and an onsite restaurant serving Ligurian cuisine.
If you're looking for an agricultural experience in Cinque Terre, Agriturismo Buranco is perfect. Set in a peaceful area in Monterosso, just a few hundred feet from the sandy beach, the property produces its own olive oil, wine, and honey and has a wide garden.
I hope this massive list of Italian Agriturismos was helpful in aiding you to choose the best place for you, your party, and your needs. Remember the number one goal of an Agriturismo stay is to relax and enjoy the land and all it has to offer.